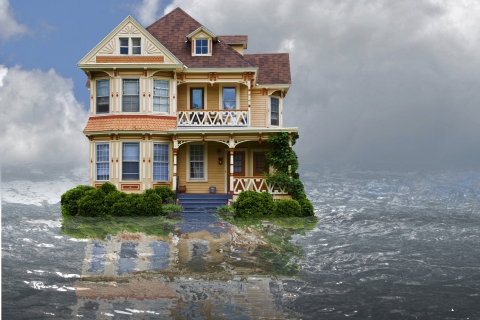 As providers of high quality flood protection, we're always saddened when customers try to explain why they don't need to buy flood insurance. Over the years, we've heard every myth and excuse in the book, and we know how much damage this misinformation can cause.
It's our desire for everyone to be protected in the case of a flood, no matter where they live or how much of a threat they perceive floodwater to be. We believe that well-informed consumers will understand how essential it is to buy flood insurance for their property, so we've assembled this list of common myths.
Keep reading to learn the facts that dispel these myths, then contact Superior Flood Inc. to buy a high-quality, affordable flood insurance policy today.
Myth: You Only Need Flood Insurance If You Live In A Floodplain
Fact: Anyone can buy flood insurance to protect themselves and their property, however a policy will generally be cheaper if you DON'T live in a floodplain. The reason for this is that the insurance company generally believes homes inside a floodplain are at higher risk of flooding, thus elevating the cost.
Myth: Only Homeowners Can Buy Flood Insurance
Fact: Although homeowners are the ones most likely to buy (or to be required to buy) a flood insurance policy, condo unit owners, renters, and businesses are also eligible to protect themselves from this type of damage. No matter what type of property you own or inhabit, contact Superior Flood Inc. to make sure that you're covered from any flooding.
Myth: Damage From Flooding Is Covered By Homeowner's Insurance
Fact: This is a myth that many property owners discover far too late. The truth is that homeowner and business insurance policies do not cover damaged caused by flooding, no matter whether it's a natural disaster or bathroom that was destroyed by a slow leak. In order to be covered, you have to buy a separate flood insurance policy.
Myth: Flood Insurance Covers Everything Inside Your House
Fact: This is one of the most painful myths that causes suffering among those who've bought flood insurance. Contrary to popular believe, National Flood Insurance Program policies don't cover possessions stored in your basement at the time of flooding, other than the heating and air-conditioning systems. If you want to be fully covered, it's important to buy a flood insurance policy from Superior Flood Inc. We can make sure that all of your possessions are protected no matter where in your house you choose to store them.
Myth: You Can't Buy Flood Insurance If Your House Flooded In The Past
Fact: This is a myth in most cases. According to FEMA, "You are still eligible to purchase a flood insurance policy after your home, condo, apartment, or business has been flooded, provided that your community is participating in the NFIP."
Now that you're better educated about the myths and facts, it's time to buy a flood insurance policy that will protect your life and your finances in the event of a water-based disaster. Contact Superior Flood Inc. to be connected with a policy that's affordable, effective, and perfect for your particular set of needs.